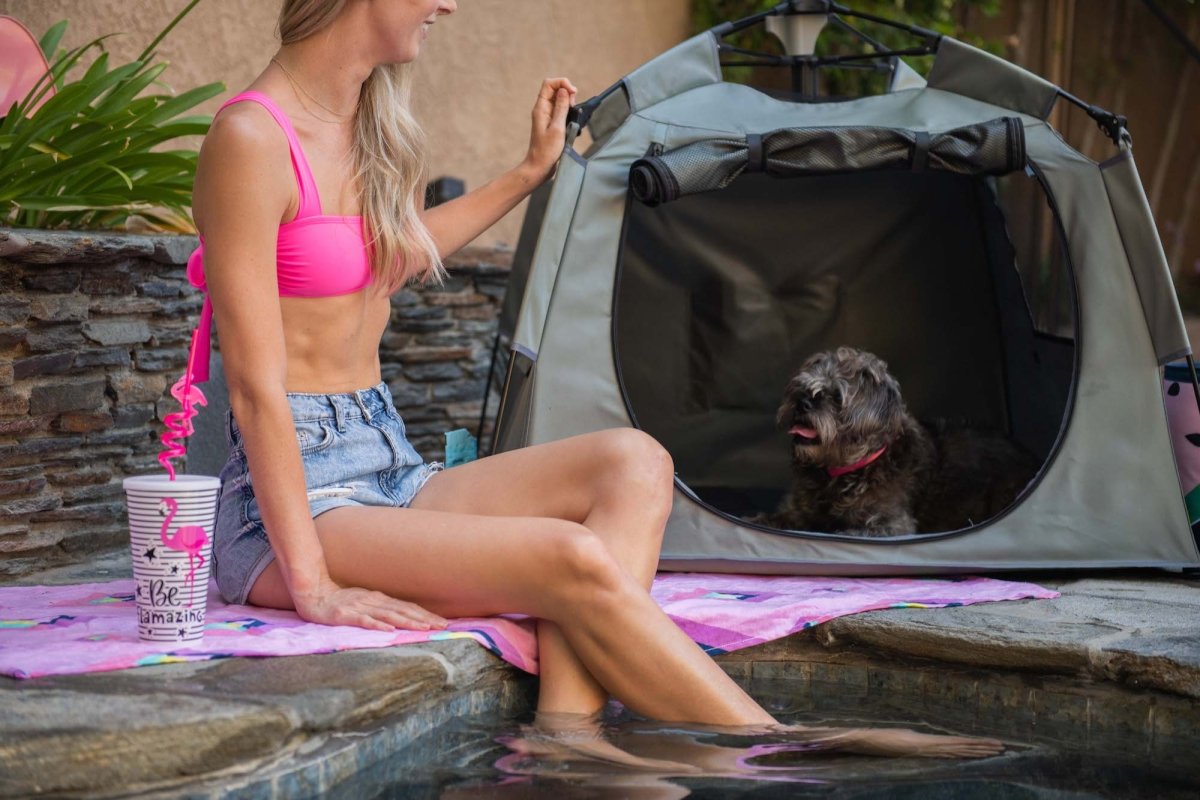 Get Your Tan On While Your Dog Stays Cool
Who else is soaking up the last days of the summer sun? Depending on where you live, you may not be experiencing fall just yet! It's still sunny and 75 here in California, so we're making sure to take full advantage of the last pool days and beach trips of the season. 😎☀️🌊
With a lot of unknowns creeping into the holiday season, I think there's one thing all pet owners can agree on in experiencing COVID-19: 
We need our pets just as much as they need us. 
It's been a ruff year to say the least… Having a pet during a global pandemic has made the time in isolation pass by a little less lonely. Although it's popular to get outside in California in general, we can confidently say there's been a lot more dog walks and fetch parties going on than there used to be! 
Getting Your Tan On With Your Fur Friend 
We may not be able to attend the beach or pool with our friends... but dogs are allowed, right? Perhaps you've been too worried to take your pet to the beach or community pool because you think they might overheat, or you know they'll just go completely bonkers when they see another dog . Lucky for you, there's a pretty simple solution, and this solution can help you out all year long, not just summer days! 
The Pop 'N Go Pets Playpen to the Rescue 
There's a good chance you've heard about our pets playpen before… considering it's what every dog mom is talking about these days. 😉
The Pop 'N Go Pets Playpen is a one-of-a-kind playpen because it serves as a number of different things for your pet. It's a kennel, travel crate, and playpen, but most importantly, it's a place your pet will feel comfortable in and it'll become known as their safe zone. 
It's innovative design makes this premium home for cats and dogs incredibly safe and practical. At first glance, this pet tent is simply adorable, but it's also so much more than that. It includes a travel bag, UV shade cover, storage pockets, ground stakes, and other features that just aren't seen in other pet pens.
The construction is built with fiberglass framing, mesh windows, and polyester siding, and assembles and disassembles in seconds—literally. It uses the same patented pop-up and pop-down technology as our kid's playpen! 
Your Dog Will Lay Low While You Lay Out
With a shady hangout spot that still allows peep holes for keeping an eye on you, your dog will be perfectly satisfied and contained. So, if you haven't already enjoyed the summer weather with your furry best friend, don't miss out before you're truly stuck inside! 
Order your Pop 'N Go Pets Playpen
here
!