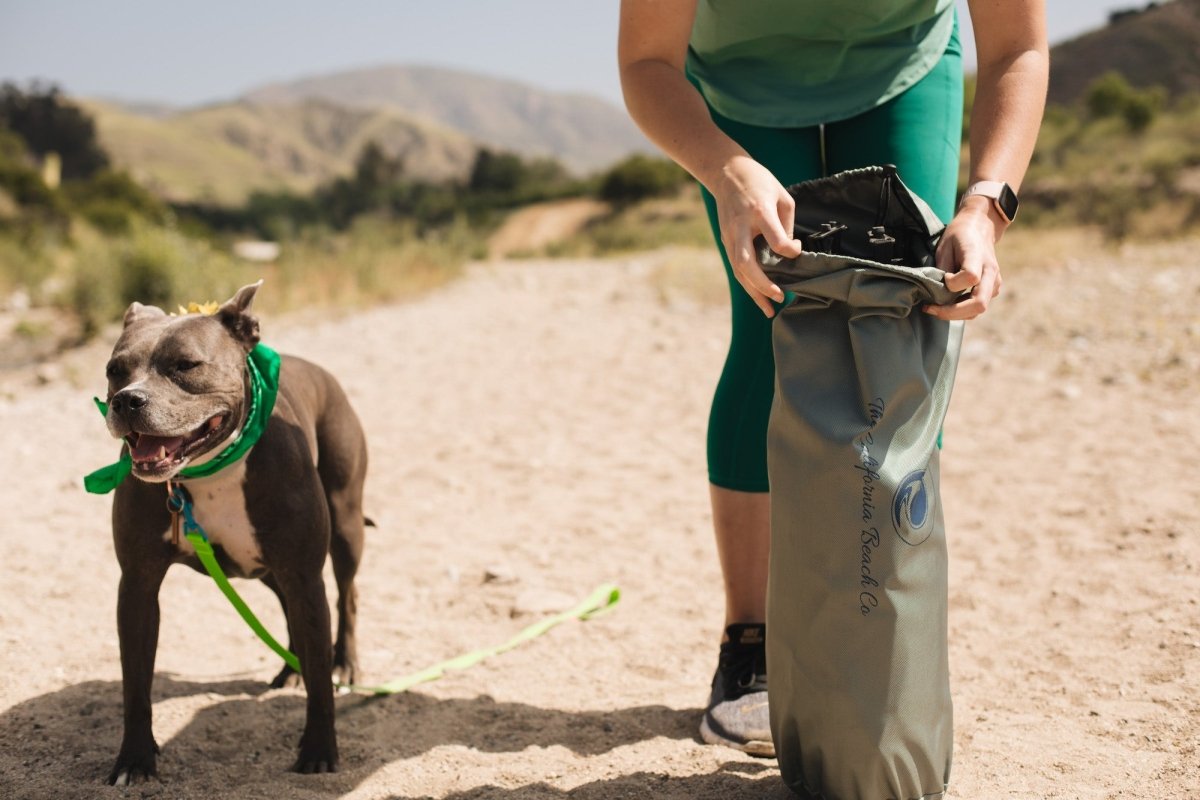 The Camping Essentials for Your Pet: Five Must-Haves
Right now is the perfect time to get out of the house and enjoy nature. If you need a break from your every day, camping is an affordable and easy way to take a mini-vacation. Instead of arranging for a pet sitter, why not bring your pup with you? The Pop 'N Go ® Pets Playpen makes camping with your dog a breeze. In this list, we've also included some other essentials that will make you and your pet happy campers.
1. The Pop 'N Go Pets Playpen
According to your pet and the folks here at California Beach Co., no camping trip is complete without the Pop 'N Go ® Pets Playpen. Our pop-up pet tent is a perfect size — small enough to not take up much room, but large enough to fit your pup comfortably. 
It's also a great camping accessory due to its efficiency and durability; two characteristics that set it apart from other pet pens. The fiberglass, polyester, and mesh build creates a fortress that keeps out harsh weather conditions and repels wear and tear.
In terms of efficiency, the lightweight parts of this playpen pop up and down in a matter of seconds, and will fit compactly in their included carrying case. The Pop 'N Go ® Pets Playpen was made for outdoor adventures!
2. A Rugged Dog Collar
A rugged dog collar is one of the most important dog essentials, whether you're camping or not! We recommend choosing one that's strong, sturdy, and doesn't damage easily. To add, reflective elements and magnetic clasps are never a bad idea, especially if you're taking it outdoors. 
3. A Resilient Leash
The same rules apply for your dog's leash. When it comes to camping essentials for your dog, quality should always come before cute. A waterproof, reflective, and resilient leash with a strong clasp is your best bet. Luckily, there are lots of options out there that check all of these boxes, including the "cute" box! 
4. A Versatile Food and Water Bowl
When you're away from home, provide your dog with a travel bowl they can call their own. To lighten your load, we suggest going for a food and water bowl that's lightweight and possibly collapsible. There are many dog bowls out there that fit this mold, and are often made with plastic, rubber, or polyester materials. 
5. Fun and Durable Dog Toys
Dogs get bored too — even when out in nature. Before setting out on your trip, make sure you're all set up with fun and durable toys for your pet. Leave the soft or fluffy toys at home. They're likely to get destroyed by mud, water, or more of Mother Nature's elements. Instead, choose a couple of toys that are resistant to water, sturdy, and easy to clean. Bonus points if the toys you bring serve dual functions, like frisbees that double as chew toys. 
Ready, Set... Go Camping!
With the Pop 'N Go ® Pets Playpen, this summer can be all about bonding with your dog wherever your adventures take you. Gather up these five essential items, and your pet will be fully prepared to join you on your explorations! You'll be so glad to have your trusted companion with you, and they'll be so happy to be included in the fun.