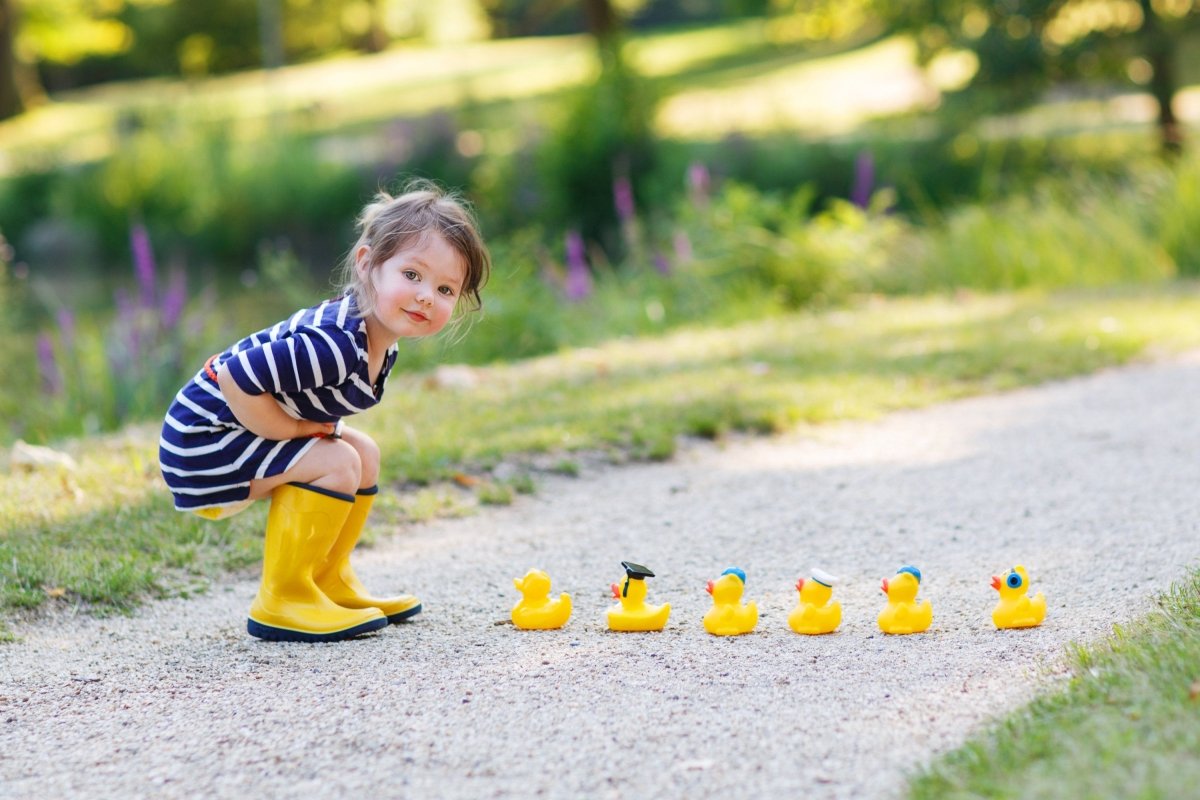 15 Backyard Activities to Try with Your Toddler
When summertime rolls around, it can be easy to run out of activities to keep active toddlers busy. Playing outside is a great way to aid in the healthy development of your toddler, burn off some of their energy, and even benefit their overall health. Here are 15 fun activities to try in the backyard with your toddler. 
1. Get a splash pad
There's no better way to enjoy the summer, than to play in the water with your toddler. A splash pad is a great way to have fun outside with a toddler and it's even safer than a kiddie pool. Since splash pads don't collect a lot of water in the bottom, they present a lower risk of drowning. You should still never leave your toddler to play unattended on a splash pad. 
2. Build a backyard obstacle course
Building a backyard obstacle course is a super fun activity that will keep toddlers busy for hours. Try incorporating some soft tents and tunnels or you can keep it simple by laying out some hula hoops and rope and having your toddler balance on the rope and jump through the hoops. 
3. Do some outdoor crafts 
There are endless ideas when it comes to outdoor crafts with toddlers. Sidewalk chalk is a great option if you have a big driveway or sidewalk nearby. You can also get some toddler friendly paint and let them get messy, while creating their first masterpiece. 
4. Start a garden
Teaching kids about gardening will get them outside while also instilling a valuable life lesson in them. Getting dirty and connecting with nature is also great for your mental health. Get a tiny garden started with your toddler, let them get dirty and plant their own seeds. They will be so happy and excited when their plants start to sprout! 
5. Blow bubbles
There are plenty of different types of bubble toys you can get for your toddler to blow their own bubble such as a bubble gun or even a bubble lawn mower. Or you can just stick with classic bubbles and blow them for your toddler and watch them chase after and pop the bubbles! 
6. Play with shaving cream
Toddlers love to get messy and play with shaving cream. By playing with it outside, you'll also be avoiding making a mess inside of your home. Get an outdoor table or flat surface and give your toddler some shaving cream to play with. They'll have a blast and you can even try to get them to practice drawing shapes and letters in the shaving cream. 
7. Play with cars 
Little toy cars are a great activity that can easily be brought outside. You can have your toddler push the cars on the sidewalk or through the grass. You can even try drawing out a maze with sidewalk chalk to push the cars through. Try a remote control car to make it even more fun. 
8. Build a sensory bin
Sensory bins are one of the best ways to keep toddlers busy while also supporting healthy development. By incorporating lots of different textures, toddlers will use their senses to explore their bin. You can make your sensory bin as simple or as intricate as you'd like. Simply start with something like sand, dried beans, uncooked rice, or oats. Fill up a food storage container and add in some toys. Give your toddler some small cups that they can use to scoop up the contents of the bin and pour it back in. 
9. Play with water balloons
Water balloons are the perfect way for you to have fun in the backyard with your toddler during the hotter months. Fill up some balloons for your toddler and let them throw them and watch them pop. Be sure to pick up all of the popped balloons when finished, you can even opt to buy biodegradable water balloons as well. 
10. Ride around on a toddler bike
Whether you're playing in the grass or in the driveway, a bike is a great way to keep your toddler busy. Toddler style bikes are designed for younger kids and toddlers who aren't yet ready for a real bicycle. They can simply sit on the seat and push themselves along with their feet. Be sure to have your toddler wear a helmet while playing on their bike. 
11. Play some basketball
Small basketball hoops will entertain your toddler and keep them busy. You can purchase a small, lightweight, outdoor basketball hoop with some balls and your toddler is sure to have a blast. 
12. Set up a jungle gym
Of course, playing on a jungle gym is an ideal way to keep a toddler busy in the backyard for hours. If you're able to install a safe jungle gym in your backyard, you'll always have a guaranteed outdoor activity for your toddler and young children to keep them busy. There are plenty of options when it comes to jungle gyms, including larger, more intricate jungle gyms that feature large slides and swings. Or you could opt to get your toddler a smaller jungle gym that is more of just a small slide. Either way, your toddler will have fun and they'll be motivated to play outside on a regular basis.
13. Play in the sand box
Sand boxes are lots of fun for toddlers because they love to dig and scoop sand into different containers. Get a small shovel and a bucket for your toddler to use in the sand box. You can also get some small toys and practice burying them, then digging them back up with your toddler. 
14. Have a nature scavenger hunt
Getting out into nature is a great way to show your toddler that they don't need fancy toys to have fun. Have a nature scavenger hunt by challenging your toddler to collect some items from nature such as sticks, leaves, and rocks. Once they've collected them you can sort them out by size and category, or even make a nature art piece by gluing them to some paper. 
15. Get some outdoor toys!
In addition to everything we've already named, there are tons of entertaining outdoor toys for your toddler to play with in the backyard. Check out some of these awesome backyard toys for your toddler. 
The Pop N' Go Playpen is the perfect outdoor accessory to keep babies and toddlers safe in the backyard!