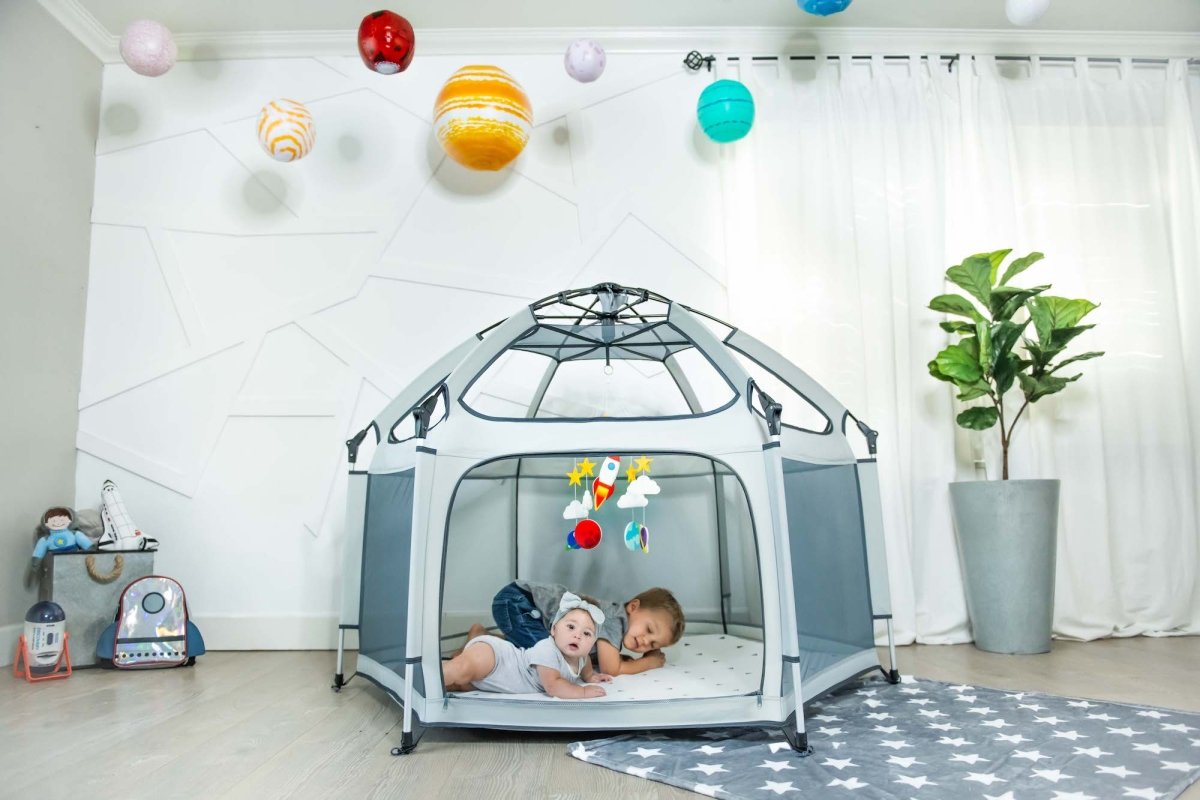 Running out of Play Date Ideas? Build an Epic Fort with the Pop 'N Go Playpen
Play dates look a little different in 2020. With indoor play gyms and community parks closed down, parents are having to get creative on how to entertain their little ones, and their friends! The Pop 'N Go Playpen serves as a tent or personal clubhouse all on its own, but why not add to it to make an epic fort? If it's your turn to host the next play date at home, this idea will surely win your kids and their friends over, all while entertaining them for hours, too! 
A Play Date That'll Make You The Coolest House On The Block 
Not that it's a competition or anything, but it's always a compliment when the kids pick your house to play at. 😉Perhaps you look at this as a blessing and a curse, but with the right play date ideas prepared… you won't mind having the kids over at all! 
The Pop 'N Go Playpen is already a fun, safe place for your kids to play indoors or outdoors. It's roomy enough for every kid on the block to play in and it provides a fun, designated space for your kids to use their imagination! However, just like all toys… kids can get bored. 
You can get away with the Pop 'N Go tent being super cool all on its own a couple of times… and then your kids will probably want to move onto the next best, cool thing. That's just how kids are! However, The Pop 'N Go Playpen is so versatile that with a little creativity and preparation, you can make this playpen an everlasting hit! 
Creating an Epic Fort with The Pop 'N Go Playpen 
Grab some Christmas lights from the attic, a few Amazon boxes from last week's impulsive shopping spree, and your kid's favorite books and games—you just rounded up all the necessary items for an epic fort—at no additional cost! 👏🏻
Add lights to the playpen
Enhance the space by pulling down some old Christmas lights from the attic or handing over a battery-powered lantern. With the Pop 'N Go Playpen being safe for both indoors and outdoors, your kids can safely set up a bright, illuminating fort at night or in the dark!
When Halloween right around the corner, pull out a flashlight and grab the spooky stories off the bookshelf! 👻 Since the Pop 'N Go tent has breathable mesh netting and a open-top design, your kids can also lay in the tent while creating animal shadows off the walls! 
Create a tunnel entrance or red carpet
Put those Amazon delivery boxes to good use! Let your kiddos connect the boxes together to create a long tunnel entrance! You'd be surprised how entertained they get from entering and exiting their own secret tunnel creation. If your girls want to create more of a castle-themed fort… rally up your most colorful and fuzzy blankets for the most epic "red carpet" walkway. Have them dress up in their favorite princess gowns, strut the runway, and change in their stylish "dressing room." 😉
Have them pick out their favorite games and books 
Once it's time to wind down, set your kids up with their favorite snacks and a fun game! Maybe your kids would have more fun flipping through their favorite books or watching a movie. Whatever they tend to do outside of the playpen, they can still do inside the playpen… which happens to be way cooler. 😎
The Best Play Date Yet
Times are tough and we can't imagine what it must be like living during these times as a kid. It's our jobs as parents to keep the light shining and remind our kids it's okay to still be kids. Going the extra mile to provide a fun, playful experience for your kids with their friends is exactly what they need right now. 
We would love to see your epic fort creations! Be sure to tag us on social media so we can share or repost your pictures!