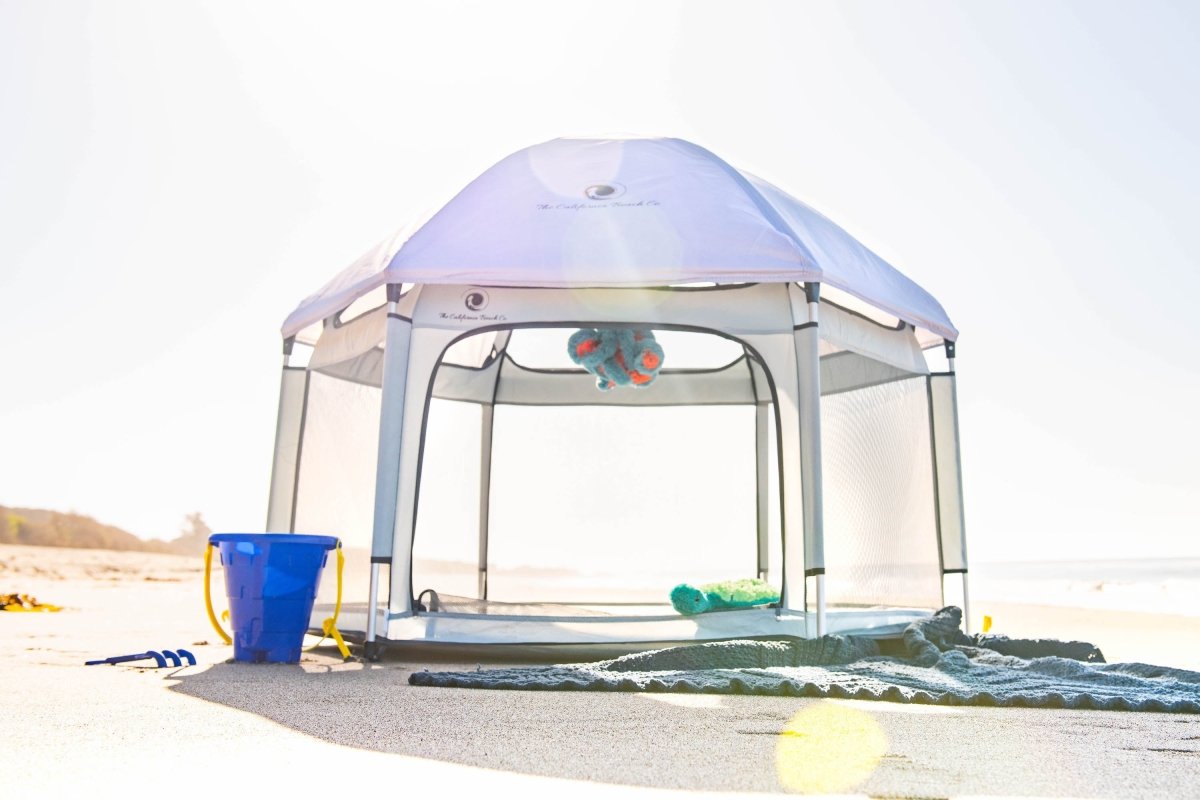 Have a Fall Picnic Featuring the California Beach Co.
At the California Beach Co., we're all about outdoor activities and family fun in the sun! All of our products can be used to make it easier to get outside as a family. With the weather cooling down, what better way to get out in the sun than to have a picnic with your loved ones? This article will break down all the different ways you can use our products to enjoy the fresh air and fall weather with your family. 🥰🍁
1. Set Up Your Pop N' Go to Keep Young Ones Shaded ⛱
The Pop N' Go Playpen is the perfect outdoor accessory for babies and toddlers. This easy-to-set up playpen can be taken just about anywhere and it even comes with an included UV sun cover. Picnicking has never been easier with little ones because the Pop N' Go ensures that you've always got a safe and shady spot to lay your little one down. 🤗
2. Stretch Out on your California Voyager Blanket
😎
The California Voyager Blanket offers a spacious foundation for any picnic. This blanket is weather resistant, soft, and even has storage pockets for valuable belongings. With room for up to three adults, there is plenty of space to stretch out with the kiddos. The California Voyager Blanket even conveniently folds up into a backpack, so it is super simple to take it on the go for your next family picnic! 👍🏼
3. Keep Your Pop N' Go Mini On Hand for a Spontaneous Park Trip 🤩
The Pop N' Go Mini offers many of the same great features of the traditional Pop N' Go, only on an even smaller scale! We recommend keeping a Pop N' Go Mini in your trunk at all times so you can always stop and set it up anywhere. This convenient playpen makes spontaneous picnics a breeze and it's the perfect item to have on hand when traveling. Just stop at your favorite local park anytime you want and your Pop N' Go Mini will be ready to set up. Set it up in seconds to give your baby a safe, secure, and shady spot to relax and play. 🙌🏼
4. Don't Forget to Accessorize!
The California Beach Co. offers a variety of accessories that make our products even better. Add a self-inflating mattress to your Pop N' Go Playpen to make it even more cozy for little ones -- it can even double as a travel crib! Or try out our Voyager Travel Pillow, it pairs perfectly with the California Voyager Blanket, is ideal to take on the go, and is ideal for indoor and outdoor usage. ☺️☀️
Safety Tips for Trick-Or-Treating
As a parent, it is easy to spend time thinking about different ways to keep kids safe when doing special activities like trick-or-treating. Today, we will break down some important trick-or-treatin...
Read more