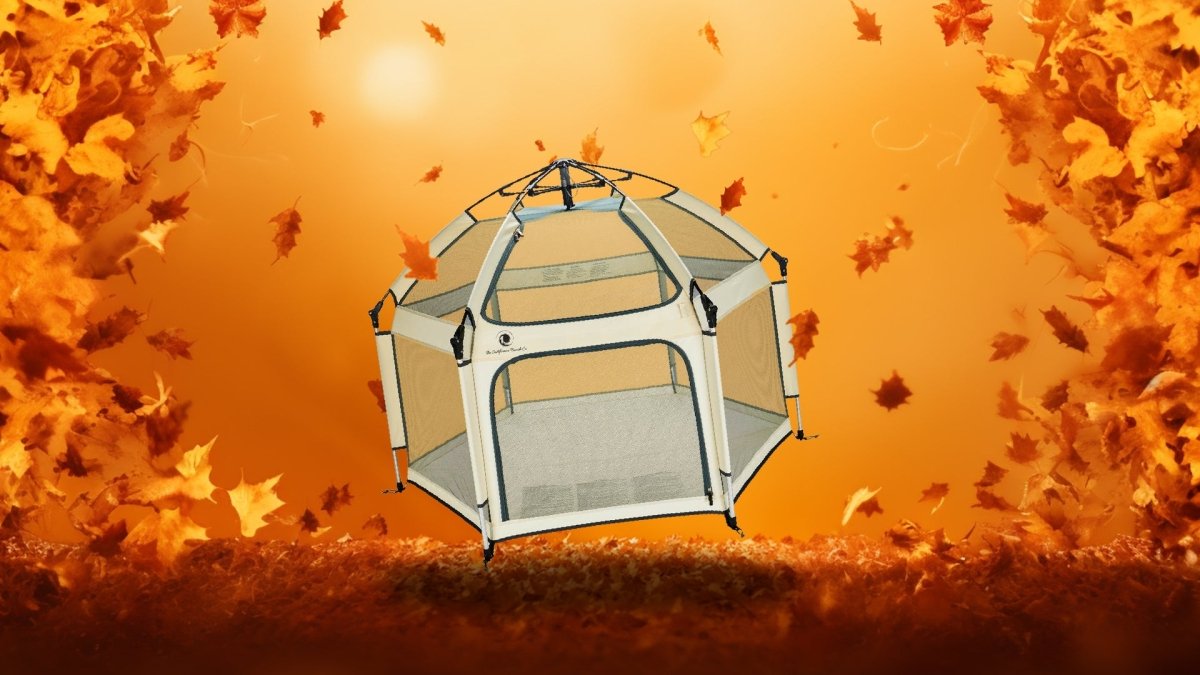 5 Festive Fall Activities with Your POP 'N GO™
While summer's sun may be fading, your POP 'N GO™ adventures are just shifting gears for the vibrant fall season! Transition from sun-soaked beach days to the crisp embrace of autumn with these 5 inspired ways to use your POP 'N GO™. 
Dive into an immersive mix of family bonding and learning, all set against the backdrop of fall's colorful canvas. We've even got you covered on those drizzly days with indoor suggestions.
Create an age appropriate Autumn Adventure Play Zone*
:
Sensory Autumn Oasis: Fill your POP 'N GO™ with fall treasures such as soft fabric leaves, cuddly plush pumpkins, and other seasonally-themed toys. Ensure everything is child-friendly and age-appropriate.

Toddlers' Fall Nest: Design a snug nook using a plush fall-themed blanket, making it a perfect spot for your little explorer to nestle. Or make their own bird's nest in their own spot.
Autumnal Ball Pit: Introduce plastic balls in hues of orange, yellow, and brown, transforming the play area into a ball pit, boosting both fun and motor skills.
Dress Up Your POP 'N GO
™:
Change your POP 'N GO™ into its own Halloween Costume this Fall. Create a craft with felt pieces to help decorate your POP 'N GO™ into your child's own halloween vision. Create a pumpkin, an Olaf or a beautiful princess with a cardboard crown rolled up to place on the top.
Halloween Haven
:
As older siblings embark on their trick-or-treating quest, make sure the younger ones aren't left out. Position your POP 'N GO™ strategically—either as a safe indoor sanctuary while you attend to trick-or-treaters or as an outdoor alcove from where they can watch the parade of festive characters.
Open-Air Exploration
:
Enjoy your autumn day by setting up your POP 'N GO™ in the outdoors. Whether it's during apple picking adventures, supporting older siblings at sports events, visiting pumpkin patches, or merely enjoying the backyard, there's a world waiting to be explored.
Starry-Eyed Nights
:
Turn evening outings into a celestial wonder with the POP 'N GO™ as a snug stargazing hub. Deck it out with blankets, and while deep constellation viewings  might be for later years, the magic of the twinkling sky is bound to enchant.
Cinema Under the Stars
:
Check out your local area for outdoor movie nights. Equip yourself with comfy chairs and set up the POP 'N GO™ to craft a safe cinematic corner for your youngest family members.
Above all, vigilant supervision is paramount, especially when introducing new activities or toys. It's essential to create a safe yet liberating environment that fuels your child's imagination and sense of discovery. Celebrate autumn with POP 'N GO™!
*Play zone activities should always be done under parental supervision. Use caution when introducing foreign objects into your child's Pop 'N Go
TM
Playpen.