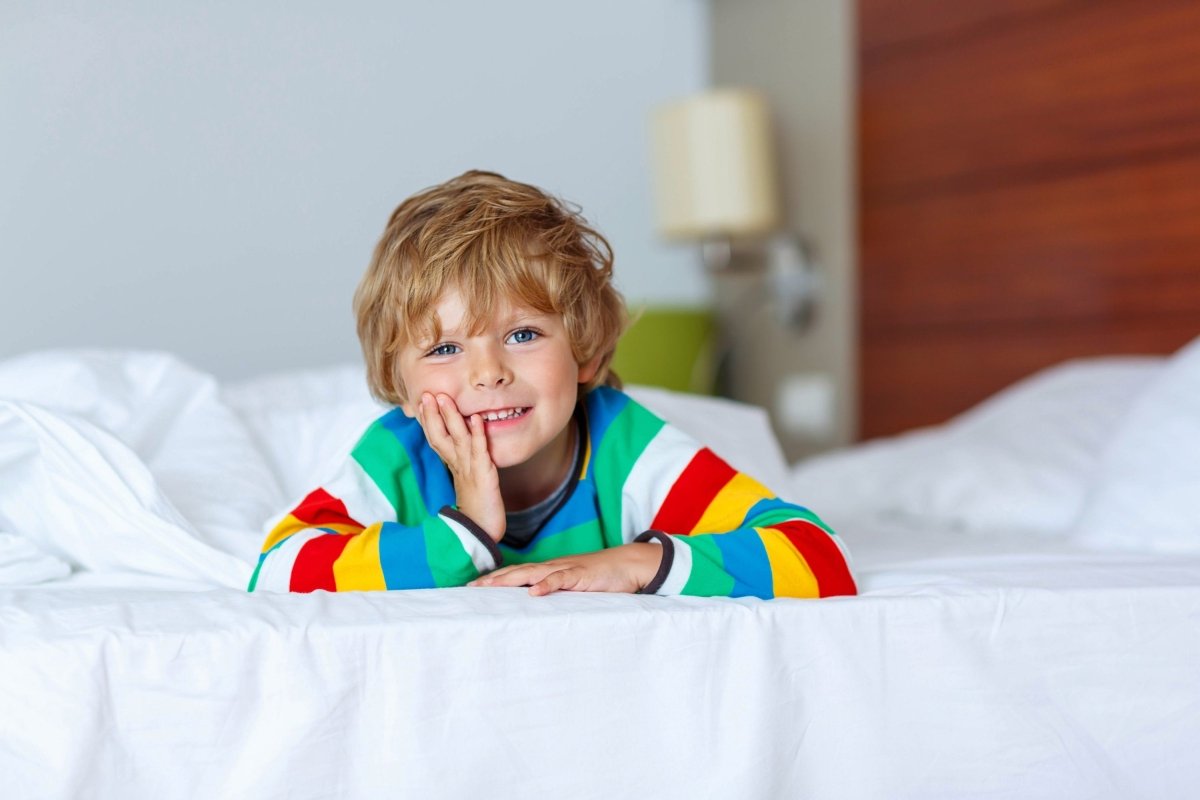 Essential Items to Bring When Staying at a Hotel with Young Children
New parents are often surprised by just how different it feels to travel with kids versus without. As your kids get older, you'll get more used to your new dynamic as a parent and find more and more ways to make staying at a hotel with your kids easy and enjoyable. Below, we've listed some essential items to bring when staying at a hotel and traveling with young children. 
How to Prepare for a Hotel Stay with Young Children
If you're getting ready to stay at a hotel with young children in tow, there are a couple of steps you'll want to take to prepare. Most importantly, you'll want to make sure to pack all essential items and do some research on the location and hotel where you will be staying. 
We recommend looking into the location where you'll be staying and mapping out any important areas that are nearby such as grocery stores, parks, and restaurants. An important part of traveling with kids is keeping everyone fed. If you're traveling on a budget, then you'll definitely want to purchase some groceries, rather than relying on restaurants for all of your meals. By knowing what's nearby, you can better plan your agenda and think about what your timeline will be like once you arrive. Of course, always be open-minded and prepare to be flexible because you never know when you'll run into some sort of delay. 
When it comes to your packing list, here are some essential items that we recommend bringing when staying at a hotel with young children:
Hygiene items such as shampoo, toothbrush, and toothpaste

Books, games, and other entertainment activities

Non-perishable snacks

Extra clothes and pajamas
Below, we'll further break down why these are some of the most important items to bring and some more specific examples for you to add to your packing list. 
Hygiene Essentials 
Personal hygiene items such as kid-friendly shampoo and dental hygiene supplies are an absolute must when traveling with young children. Many young children still use tear-free shampoo and it is unlikely that the shampoo that is offered at hotels has this feature. Also, if you choose to use more natural products with your children you'll definitely want to bring your own soaps and shampoos, given that those offered at hotels may include artificial fragrances, sulfates, and other potentially harmful ingredients. 
It is hard enough already to keep young children on a good schedule with tooth brushing and flossing. Make sure to bring along their favorite toothbrush and any other dental hygiene supplies such as kid-friendly toothpaste and floss so that their good dental habits don't get left at home. In the event that you forget to pack dental hygiene supplies for your children, you'll likely be able to purchase these items upon arrival but your options may be limited. 
Vacations tend to be a time of indulgence for everyone in the family and there's nothing wrong with this, but an increased amount of sugary treats and unhealthy snacks are all the more reason to make sure that your young children are staying on top of their tooth brushing and flossing, even when traveling. 
Books, Games, and Other Entertainment Activities 
You never know when you're going to be stuck in your hotel room with your kids, such as when poor weather conditions alter the day's agenda or flights get delayed. You'll definitely want to have some travel-friendly activities on hand so that downtime at the hotel doesn't automatically default to TV time. Some ideas include:
Coloring supplies

Activity books

Puzzles and board games
You can also work with what you have available to you and send your kids on a hotel room scavenger hunt or use pillows and blankets to build a hotel room fort. When it comes to packing activities and games, shoot for anything that is lightweight and small so that it will easily fit into your suitcase. 
If the weather is permitting, one of the best ways to keep kids busy at a hotel is to head down to the hotel pool, so make sure to bring bathing suits. If your kids aren't yet swimming on their own, make sure they wear a flotation device and always pay attention to whether or not a lifeguard is on duty. Never leave children unattended to play at the hotel pool by themselves. 
Plenty of Snacks
It is incredibly important to keep kids fed when traveling and bringing your own snacks is a no-brainer for a few reasons. First of all, by already having snacks on hand you can quickly and easily hand your child something to eat when they get hungry, helping you stay ahead of their hunger and avoid a possible meltdown. Second of all, bringing your own snacks can save money because you won't just run out and buy the first thing you can find, which might be overpriced if you're buying from a hotel vending machine. 
We recommend bringing along some non-perishable snacks such as granola bars, dried fruit, crackers, and chips. Once you arrive at your destination you can head to a nearby grocery store to get some additional snacks to put in the hotel mini fridge. 
Extra Clothes and Pajamas
We all know that kids can be messy, so you'll definitely want to bring some extra changes of clothes and pajamas. Fitting a few extra sets of clothes and pajamas into your suitcase shouldn't be an issue, especially since kid's clothes typically don't take up much room. You obviously don't want to over pack but it is better to be over prepared than under prepared. We also recommend calling the hotel ahead of time to find out if they offer laundry services. This could be a lifesaver if you're staying for more than a few days and run out of room in your suitcase. 
Final Thoughts
Traveling with young children definitely requires a little more thought than traveling alone but with the right amount of preparation, it doesn't have to be a stressful experience. Simply map out what you need to bring and slowly move through your list. 
The Pop N' Go Playpen is a versatile, travel-friendly playpen that is lightweight and easy to set up!