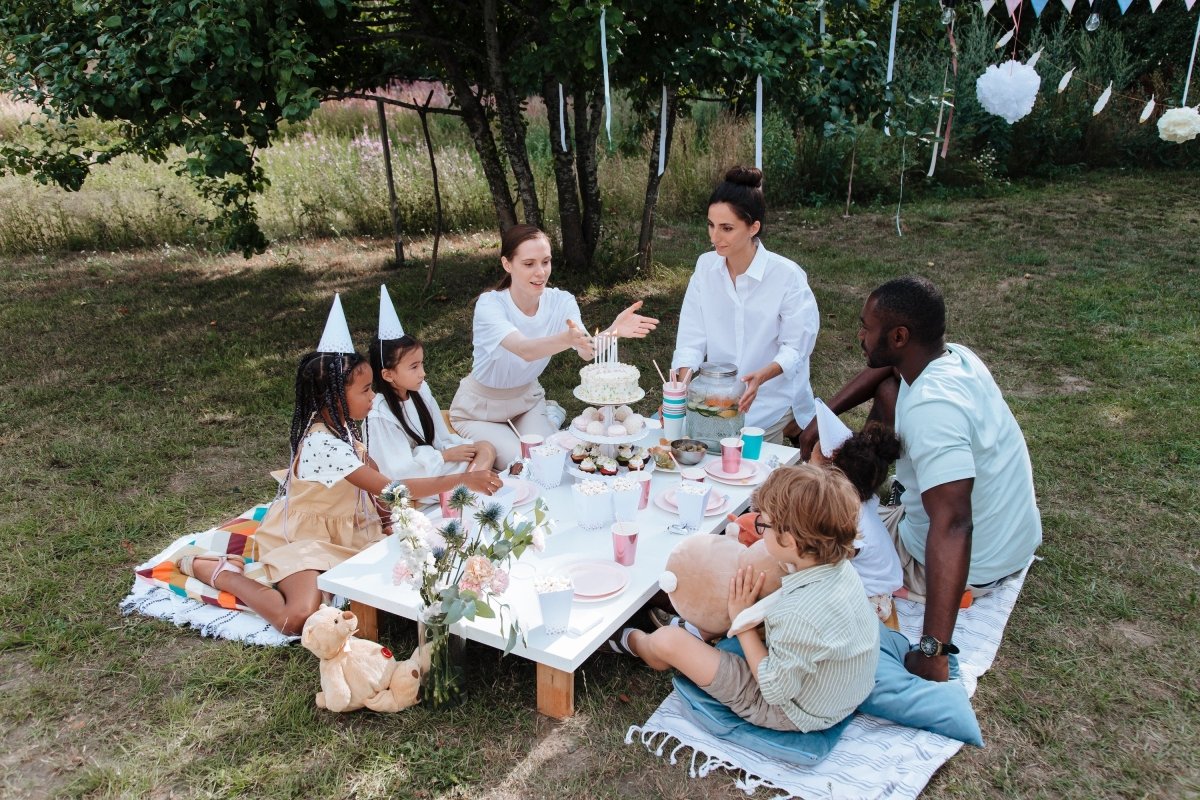 Tips for Hosting a Backyard Birthday Party for Young Children
Some parents think of their child's birthday party as one of the most stressful days of the year, while others thrive when it comes to frosting cupcakes and planning kid-friendly games. Regardless of which type of parent you are, you can still plan a fun and memorable birthday party for your young child. Hosting a birthday party in your backyard is a great idea since you'll have plenty of outdoor space for kids to run around and you won't have to deal with the expenses that may come along with hosting the party at a different location. Before the day of your child's birthday party comes, you'll want to consider some backyard safety tips, plan some party activities, and think of a theme. Below, we've listed everything you need to consider before planning a backyard birthday party for your young child. 
Backyard Birthday Party Safety Tips
When planning a backyard birthday party for your child, you'll definitely need to make safety your top priority. Backyards really are one of the best venues for a children's birthday party but they can present plenty of safety hazards as well. Consider some of the following as you prepare to host your child's birthday party.
1. Swimming Pool Safety
If your backyard features a swimming pool, this can serve as the main attraction of the birthday party or you can choose to have it closed off and keep the kids busy with other activities. If you're planning to use the other areas of your yard for the party, rather than actually using the pool, you'll want to make sure that the pool is safely fenced off to avoid the risk of a child wandering near the pool and falling in. 
For parents who plan to host a pool party, make sure that the other parents are well aware of the fact that there will be a swimming pool ahead of time so they can bring appropriate flotation devices for their children as well as towels and bathing suits. Never leave young children unattended to play near the pool. Even if they know how to swim, there should always be adults present. 
2. Jungle Gym Safety
Some parents have a jungle gym, slide, or swings in their backyards. These are also great activities to have for a children's birthday party since they give kids an entertaining way to get their energy out. Before your party guests arrive, you'll want to check out your jungle gym to ensure that it is structurally sound and doesn't feature any rusty, sharp, or loose pieces. Make sure to talk with kids ahead of time about playing safely on the jungle gym, ensuring that no one pushes others or jumps from high-up areas. You'll also want to make sure that children are appropriately dressed for playing on a jungle gym, wearing well-fitting, closed-toed shoes. Check your jungle gym prior to the party to make sure that it isn't wet, since moisture can cause the surfaces to become slippery. 
3. Check for Insects and Pests
Inspect your yard ahead of time for any insects such as ants or wasps. You'll want to make sure that there aren't any ant piles or wasps nests in and around your yard where young children will be playing to avoid any stings or bites. If you plan to have any babies or toddlers at the birthday party, you may want to set up a blanket in the grass to give them a safe area to play where there won't be any bugs. Be aware of your lawn services and make sure that your grass hasn't been recently sprayed with any pesticides or other harmful chemicals. You'll want to make sure that at least 48 hours have passed since your yard has been sprayed before anyone plays in the grass. 
4. Stash Away Any Dangerous Equipment
If you have any sharp lawn equipment, make sure to lock it up in a shed or garage where children cannot access it. Accidental injuries commonly happen from children playing on or near lawn equipment such as sharp shovels, lawnmowers, and rakes. Young children tend to be curious and will be quick to pick up any tools that are left lying around so make sure to clear your yard of any equipment that might pose a threat. 
5. Be Aware of Traffic 
Some backyards are near streets with vehicular and pedestrian traffic. For any parents who have a yard near the street, you'll want to be paying close attention to the traffic and making sure that children know to play far away from the road. Fenced-in yards make for a much safer environment for young children to play but if this isn't an option for you, you'll just want to pay close attention to the children and make sure that no one wanders off near the street. 
6. Consider Sun Protection and Shade
For birthday parties that will be hosted during the hotter months of the year, you'll definitely need to consider sun protection. You don't want kids to get too hot or to end up sunburned since there was a lack of shade. Make sure that your backyard birthday party features plenty of shady space for children to rest. If your yard already features shade from a porch or trees, then this makes things even easier. But for yards that don't have natural shade, you'll want to set up some type of tent or large umbrella. Also, make sure to have some non-toxic sunscreen on hand for your child and for other children to use in case they need it. 
Party Activities for Young Children
Having plenty of activities for children to play with at a birthday party is super important because it will keep everyone busy and entertained. Birthday party activities can be as simple or extravagant as you're comfortable with because most children will have fun either way. Backyards offer plenty of space for a variety of different activities including a bounce house, water activities, or crafts. Below, we've listed a few of our favorite backyard birthday party activity ideas. 
1. Rent a Bounce House
Bounce houses are a surefire way to keep kids busy and they're actually very easy to rent or purchase online. The inflatable design of bounce houses also makes them fairly safe for children. For larger, grassy backyards that have plenty of space, a bounce house would be perfect but if you're limited on space this might not be ideal for you. You may be able to find a smaller-sized bounce house that will fit if your yard is more compact, but you'll want to make sure that there is enough space for kids to play in it together. Make sure to limit the number of kids who are in the bounce house together so that it doesn't get too crowded. 
2. Set Up a Craft
Crafts are a fun and simple way to keep kids busy. For anyone who is looking to host a more low-key birthday party, set up some painting supplies or sidewalk chalk for kids to get creative. Tie-dying shirts is a really fun birthday party activity for kids and it is the perfect activity to host outside since you won't have to worry about dyes spilling inside of your home. 
Crafts are a great birthday party activity because they allow kids to make something to take home with them such as a piece of artwork, a homemade bracelet, or a new tie-dye shirt. 
3. Bean Bag Toss, Giant Jenga, and Other Outdoor Games
You can also set up a variety of different outdoor games for kids and let them pick and choose what they'd like to play with. Bean bag toss and giant Jenga are fun games that kids and adults can enjoy together. You could also get some bubble-blowing toys, set up ring toss, or encourage kids to play hide and seek or tag. 
4. Plan Some Water Activities 
It is hard to go wrong with water activities when it comes to hosting a backyard birthday party. As long as the weather is permitting and you don't have any cold or rainy weather, you can set up a variety of different water-related activities that will keep kids of all ages busy. 
Set up a splash pad or slip and slide where kids can splash and play. 

Water tables

are fun for younger children and provide a variety of different sensory activities.

Water balloons are always fun for kids. Fill up a bunch of balloons ahead of time and place them in buckets around the yard. 

For parents looking to go all out, you can rent an inflatable water slide for the party. This is the only activity you'll need to have since it will keep kids busy for the entirety of the party. 
Birthday Party Theme Ideas
Picking a theme for your child's birthday party can make it feel more special for them and can help narrow down decorating decisions. Think about some of your child's favorite activities, TV shows, characters, or colors when deciding on a theme. You can also consider the time of year and pick a seasonally appropriate theme such as a fall festival or a summer luau. Here are a few of our favorite birthday party theme ideas for young children.
Host a Disney-themed birthday party based on your child's favorite characters or movies such as Frozen, The Lion King, The Little Mermaid, or Peter Pan. 

Have a carnival-themed birthday party that features your child's favorite carnival foods such as popcorn and cotton candy. 

Base your child's birthday party theme off of one of their favorite books such as

Where the Wild Things Are

or

The Very Hungry Caterpillar

. 

Keep the birthday party theme simple by picking something your child loves such as dogs, mermaids, princesses, or dinosaurs, and base the theme around that. 

Use your child's favorite color as the theme for the party and base decorations and the cake design off of it. 

Simply use the food as the theme by hosting a pizza party, cookie party, or cupcake party. 
Ultimately, you don't have to have an extravagant theme for your child's birthday party. You could keep it simple or go all out and your child will probably have a great time either way. When it comes to choosing a theme, just consider what is within your budget and timeline. If you're not wanting to spend a lot of money on decorations then look into DIY decoration ideas that go along with the theme you've chosen. 
Birthday Party Planning Tips for the Overwhelmed Parent
Many parents will agree that planning a children's birthday party can be incredibly overwhelming. Remember that you don't have to overextend yourself to give your child a fun and memorable party for their special day. Here are a few tips to keep in mind if birthday party planning has your head spinning:
Keep the guest list small with only close friends and family. Having a smaller guest list can make the birthday party feel generally more relaxed and cuts down on food costs. Large birthday parties can be overstimulating for children, so there is nothing wrong with having a smaller party. 

Before you even begin planning the party, take some time to consider what you and your child want out of the party. Most parents plan birthday parties with the simple goal of giving their children a fun day. Remember that you don't have to go over the top to have fun. Simple parties provide children with plenty of fun and memories as well. 

Take some time to plan a family activity for just you and your child to celebrate their birthday as a family before the birthday party. That way, you won't feel like you've missed out on your child's special day with them if they were busy playing at their party all day while you were keeping guests entertained. 
The
Pop N' Go Playpen
is a practical outdoor accessory for families and provides the perfect area for babies and toddlers to play in the backyard.